Ultra Graphics was able to meet up with 360 Office Solutions owners Frank Cross and Craig Bartholomew to discuss their marketing strategy and evolution.

What is the one thing most people don't know about your company that you wish they did?
The depth and breadth of services, capabilities and product categories we have available for the end users. From furniture and business machines, to office, school, break room and cleaning supplies.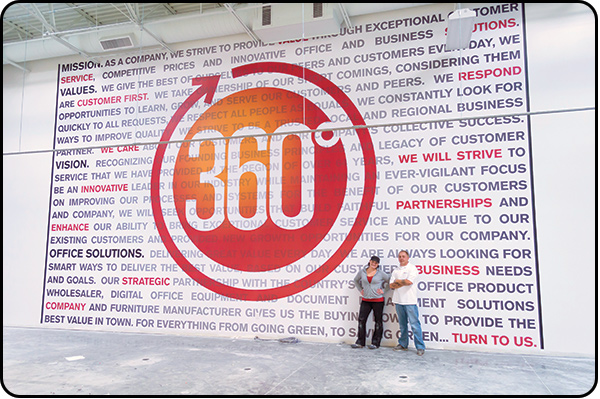 I think a lot of business owners might feel like they have been in a dip over the last few years given the overall state of the economy. How has the downturn of the national economy impacted your marketing efforts? Have you marketed differently in this economy than you would have 6 years ago?
The traditional office as we know it has changed over the past few years and how people handle their business today. We have adapted to that change; seeing where we need to make the move in growing different business categories. The internet and on-line ordering has also grown for our company. Today as a company we need to be available for the customer at their convenience 24/7.
What kinds of things do you do to ensure marketing initiatives work well for your sales team?
We set goals and incentives for our sales team. We challenge them but make sure what we are doing is clear and concise and we try to keep things simple. We back our marketing with support, buying power and exclusive lines.
What marketing strategy changes have you had to make as your company has grown?
We constantly try and keep our name in front of the end users. We carry a wider variety of product offering, marketing services such as managed print, inventory services, desk top delivery and standards programs to help offices run more efficiently. Social Media has become more important in our industry and target marketing to the right person within an organization.
What marketing mistakes do you see most often in other small business?
Not willing to change and grow, as well as lack of consistency.
What marketing mistakes has your company learned from?
Over-think and over-complicate.
How is your company using the internet and social media to advance your marketing goals?
Intriguing the end users with catchy videos, fun programs, online coupons.
What top 3 things do you attribute to your success?
Our employees, our long term commitment/passion and history and an aggressive attitude.
How do you differentiate your company from other competitors in the marketplace?
We have extensive product and customer knowledge that we apply through committed personal service. We are locally owned and we support our community.
What's your best marketing tip for other small business owners?
Make an investment for the future-constantly look at the big picture and challenge yourself.
360 Office Solutions is on the move – new location, sales growth through mergers, acquisitions, etc. What's next for 360?
Continue to grow and expand. Listen to our customers and always look for the next opportunity.

406.248.7881 | 360-os.com