Meet the Ultra Graphics Team.
Meet the men and women offering complete end-to-end solutions for your growing business. We sincerely enjoy helping our customers, and believe our positive work culture heavily influences how we treat others.
That's why Ultra Graphics is devoted to creating a rewarding and fulfilling environment that makes employees excited to be part of a dedicated team of print and marketing communication professionals. Every member of our team is essential to Ultra Graphics' success. No project at Ultra Graphics is completed by just one person, making communication and teamwork a priority, and we are very proud of the great service they provide to our customers. If you're interested in joining us at Ultra Graphics, feel free to check out our
careers page
to see if there are any opportunities.


Producing results for our customers is

always

our
first priority.
That's why every member of the Ultra Graphics team believes:
Every effort I contribute to every project is crucial
Every effort my teammates contribute to every project is crucial
Exceeding customer expectations is not extraordinary – it must be routine.
This belief creates:
A customer first focus
Unsurpassed quality
Proactive, solutions-focused communication – both internal and external
Appreciation and respect for every member of the team
Pride in our own work and the work of our teammates
An atmosphere where new ideas for improvement are not only encouraged, but expected from every member of the team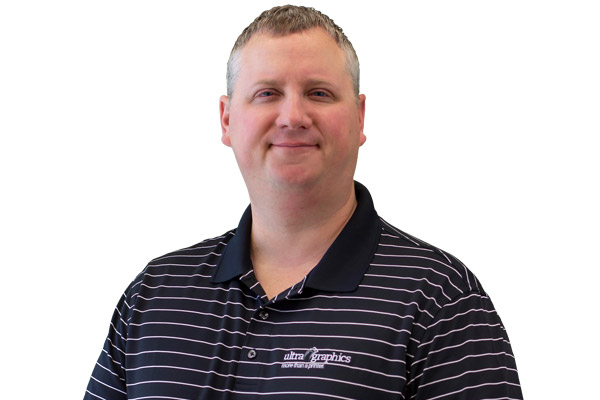 Owner – Jake Eaton
Leading the team fueled by producing amazing results for our customers is Jake Eaton. Mr. Eaton purchased Ultra Graphics in 2012 and has built on the strong foundation of helping local businesses and non-profits achieve measurable marketing results since 1994.
Jake Eaton
The Sales Team
Our friendly and knowledgeable sales team will provide the highest level of customer service to help you succeed in today's competitive market. Whether you've been working with us for years, or are a brand new customer, you can expect the same great service from any of our Ultra Graphics representatives. Contact them here
From left to right: Michelle Tracy, Kimberlee Greathouse, Randy Gerringa, Angie Kramer, Amanda Obert, and Breanna Allen.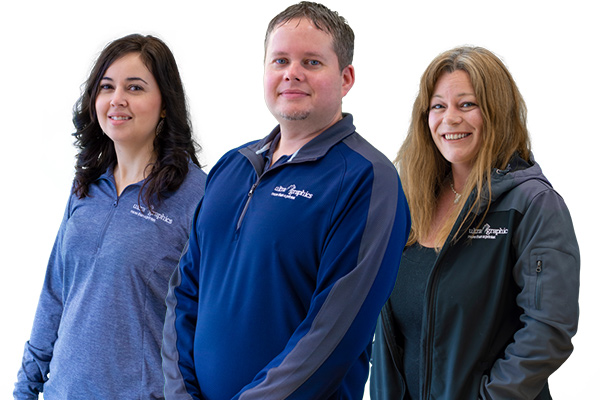 The Design & Pre-press Team
No project is too big or too small for our award-winning design and pre-press team. This team strives to make your projects look their absolute best, whether by optimizing a file you provide, or building a new design from the ground up. Our team consists of experienced design professionals in many areas including logo design, graphic design, layout, content writing, branding, photography and pre-press.
From left to right: Stacey (Designer), Kevin (Design Services Manager), Toni (Designer).
Marketing & Creative Services
Our creative services director fills multiple roles for both Ultra Graphics and our customers, including marketing support, strategy, and design. He also serves as a support structure for account executives, project coordinators and collaborates with all other Ultra Graphics teams to produce outstanding results.
Scott (Creative Services Director).
The Print & Production Team
Our talented production department has years of combined experience and takes special care to print and finish your projects so you can be sure you're getting nothing but the best. Whether it's 10 pieces or 10 thousand pieces, this team has you covered – utilizing new equipment and technology that increases efficiency and quality.
From left to right: Kurt (Digital Press Operator), Adam (Offset Press Operator), Martin (Press Operator)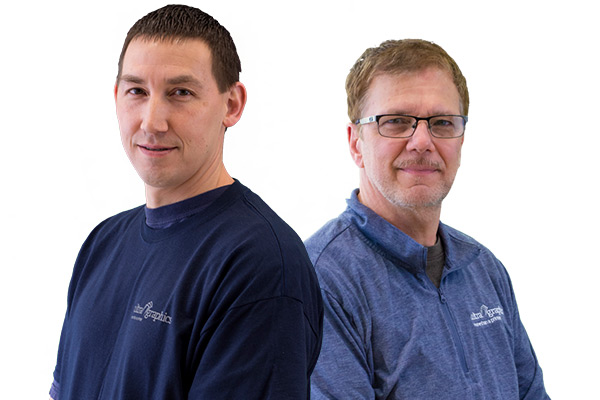 The Production & Finishing Team
Printing amazing quality products is only half the equation. The production and finishing team steps in to not only give your projects that final touch before it's delivered, but to schedule and organize materials and workload for the over 1,000 jobs that come through our door during an average month.
From left to right: Andrew (Production Manager), and Scott (Finishing)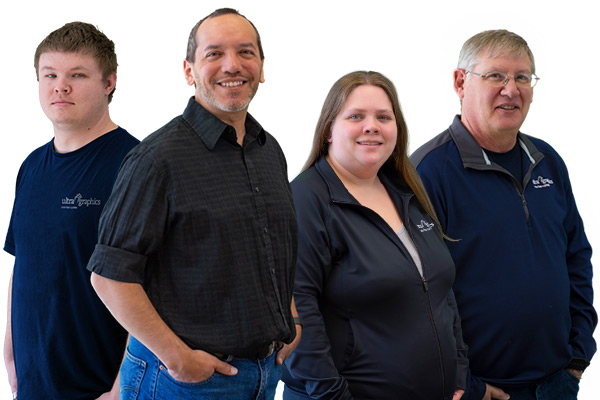 The Mail, Fulfillment, & Delivery Team
Our mail and fulfillment team excels at some of the hardest jobs in the building. These tasks require focus, organization, and generous attention to detail to manage the thousands of pieces that get processed daily through the department. From local delivery to worldwide shipping, list purchase to packaging and fulfillment, they are able to coordinate your marketing project and get it where it needs to be.
From left to right: Alex (Delivery), Martin (Data Coordinator), Cathy (Mail/Fulfillment), and Wayne (Packaging/Shipping/Fulfillment)
The Large Format Team
This department is truly unique, creating some of the most custom print projects in the building. If you can think it, they can print it. This team handles everything from banners, signs, and posters to more specialized projects like vehicle wraps, window graphics, magnets, trade show displays, and metal or wood prints.
Jake (Large Format Technician)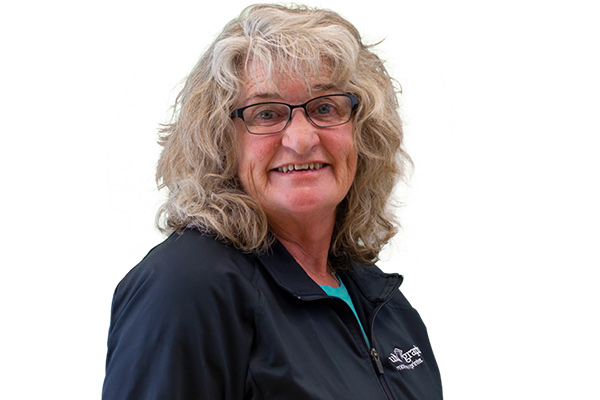 Document Services
Julie – Document Services can be considered one of the most helpful individuals on earth – you'll always find her lending a helping hand when she can. She manages the many tasks and responsibilities that come with preparing and managing secure documents, high-speed copying, and bindery and she does it with ease and precision.