Document Services – high-speed scanning, copying, numbering.
For over 29 years, Ultra Graphics has offered a variety of services to assist you with preparing and managing secure documents, high-speed copying, and bindery.
Our document and legal services department provides a secure environment for duplication and printing, as well as high resolution scanning and bindery solutions. Our professional staff safeguards document reproduction for your company while providing comprehensive quality control throughout the entire process. Along with reproducing black and white and color documents, we also offer digital archiving, providing high speed CD and DVD duplication. We understand the occasional need for fast turnaround, which is why we offer flexible staffing to meet the needs of large jobs with demanding deadlines.
High Speed Scanning & Copying
Using our high-speed digital scanning stations, we are capable of scanning documents up to 11" x 17" in color and black and white, single or double sided. If you have a file or batch of originals at different sizes, we can configure our machines to intelligently change settings to match size and orientation, making the scan project faster and more efficient.

We can build multiple page files in a single run that can be saved out as TIFFs or PDFs, with watermarking and barcode recognition options available.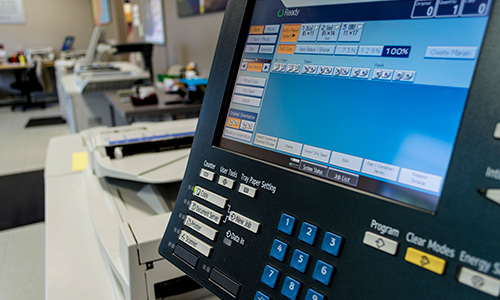 Color & Grayscale Printing
Did you know that Ultra Graphics is one of the region's foremost provider of digital document printing? We can print black and white, color, and mixed sized originals at one of the lowest click costs available. We're also your go-to for document organization – collating, stapling, drilling, tabs and slip sheet options available.

We can also print documents up to 52" wide in our large format department with several types of laminating and mounting choices, useful for legal case briefs and architectural presentations. Ultra Graphics also boasts an in house full-service mail center. We'll help select the most efficient way to get your documents sent out on time and within budget.
File Processing & Numbering
Utilizing our sophisticated variable data printing software, we can apply a page numbering scheme, copyright, scan date, or any other text to your documents electronically or as they print.

Have multiple digital files that need printing all at once? Ultra graphics can also help with your batch printing, saving you tons of time – and we'll also organize and bind the prints together in binders, boxes, or whatever else you need. Also, we offer file conversions in several formats – PDFs, TIFFs, PDF to Word (text or rich text).
As you can see, our document services department has a lot to offer for increased productivity for you or your business. So, how can our services benefit you?
Are you a legal firm needing copies of a case briefing for a trial? Ultra Graphics will organize, number, and copy documents from your printed or electronic sources. We can also enlarge photos, maps or other case-relevant documents for easier viewing.
Perhaps you are an architect or are with a contracting firm that needs a proposal copied and organized into binders for an upcoming meeting. Ultra Graphics can copy and/or print those plans and specifications (including blueprints up to 17" x 11") and construct professional looking binders complete with three-hole punching and custom printed tabs.