Vehicle graphics, vehicle wraps, die-cut lettering in Billings
Using your vehicle as an extension of your brand is a smart investment. You can increase your business's visibility by huge amounts simply by adding your logo and contact information to your fleet of vehicles. Ultra Graphics can design anything from simple die-cut lettering to full-color, full-coverage wraps.
Using our high-quality printers with vibrant UV cured ink, combined with a lamination process that seals and protects the image, our vehicle graphics will get attention and generate interest in your products and services. Considering the potential daily exposure a vehicle wrap provides just driving around in traffic, it's a no-brainer! We have a professionally trained installer and all design and production is done in house, so you know it will be held to the same high standards as our other offerings.
Die-Cut Lettering
Ultra Graphics offers die-cut lettering in many styles and colors. Not only do we have solid color adhesive vinyl for an inexpensive option for lettering, but we can also print in full color then die cut out shapes, logos, and more. Looking for something a little more unique? Ask us about our specialty materials for die-cutting, such as carbon fiber and metallic finishes. We can cut lettering as little as ½ inch tall or as large as 2 feet.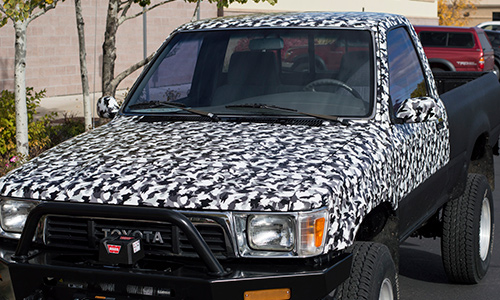 Partial Vehicle Wraps
A more cost-effective option to a full coverage vehicle wrap is a partial vehicle wrap. They can include a combination of die-cut materials, full color print and cut designs, and paneled wraps that overlap to create a seamless image. Many small businesses choose a partial wrap because it offers the same high impact for less cost and installation time.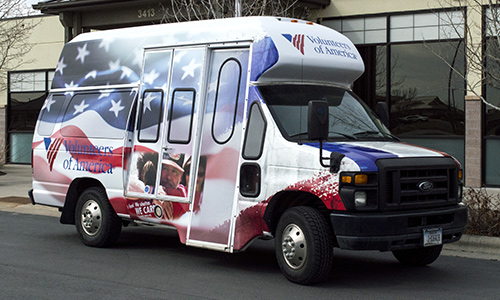 Bumper to Bumper Vehicle Wrap
The 100% coverage vehicle wrap is a method of designing and applying adhesive vinyl to every wrappable inch of the vehicle. We have previously used this option to change the color of vehicles in addition to adding graphics and text. We can create gorgeous, vibrant designs that compliment the shape of your vehicle while maintaining the style and colors of your brand. These kinds of wraps are truly impactful, and serve as a marketing and advertising tool whether the vehicle is in motion or not!
It's important to Ultra Graphics to use the materials that will last as long as possible, and machinery and techniques that create the best possible result for your business.
That's why we prefer to use high quality adhesive vinyl that lends itself to conforming to the contours of a modern vehicle while minimizing fading, tearing, and other issues. Adding a laminate to the vinyl further ensures that it will stay vibrant and colorful for as long as possible.