With the Bakken oil and gas boom providing a boost to our local economy, Ultra Graphics sits down with Performance Engineering's Scott Aspenlieder to discuss his new Billings company's marketing strategy in this thriving industry.

What is the one thing most people don't know about your company that you wish they did?
The full scope of our services. The civil engineering industry covers such a broad cross section of business that sometimes people make the mistake of thinking that they have to find a specialist for this or a separate consultant for that. In most cases we can handle the full breadth of our clients' needs if they don't just assume we are a roads engineer or a water engineer. Performance Engineering & Consulting has the ability to handle simple residential permitting with the City of Billings up to complex oil and gas well permitting with the States of Montana, North Dakota, and Wyoming. We provide the full scope of services you would expect from a civil engineering firm including subdivision development, roads, water, sewer, stormwater, irrigation, environmental permitting, pipelines, hydrology, and hydraulics. But in addition to that we also provide services in the oil and gas industry as well as a focus on water resources work and hydropower development. That's a unique trait that you can't always find in Montana.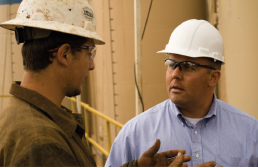 What kinds of things do you do to ensure marketing initiatives work well for your sales team?
We focus on follow ups to make sure that our initial efforts are supported by face-to-face discussions about the client's business and their needs. Our focus is not just on selling a service, but it's about building lasting relationships and then maintaining and fostering those in both the business arena and the personal side as well.
What marketing strategy changes have you had to make as your company has grown?
We try to focus a large part of our efforts on expanding our services with existing clients and isolating certain sectors of business to focus our marketing. Budgets are as tight now as they've ever been, so we put a lot of effort into identifying targeted sectors and making sure every marketing dollar counts in conveying our message and informing people of the wide band of services we can provide.
What marketing mistakes do you see most often in other small business?
It's easy to fall into the trap of marketing just to market or because you see your competitor doing something. Without sitting down and developing a solid marketing strategy and setting goals for your marketing efforts, it's impossible to ever really identify if what you're doing works and, if it doesn't work, identifying why it doesn't. Without those cornerstones in place, it's nearly impossible to truly know if you're spending marketing dollars just to say you market or if you're successfully selling yourself and your services by differentiating yourself from the rest of the pack. I want to know that every dollar I send out the door has the best possible chance of creating the potential for us to expand our business. If it doesn't, I want to know how I can change what I'm doing to have the maximum impact.
What marketing mistakes (your own or others) has your company learned from?
Taking the shotgun approach and throwing things at the wall to see if anything works. Clients and industry are very savvy now and most people are really marketed from the time you get to your office until you go to bed at night. It's important to really differentiate yourself from the pack, do something unique, isolate and emphasize some aspect of your business and let people know that you're the best at X or you provide the best cost/value in Y.
What top 3 things do you attribute to your success?
Attitude – Every day is going to provide some type of opportunity to bring in a new client or improve or expand our services to an existing one. As long as we maintain an excellent attitude, our clients and potential clients continue to be drawn to us and want to work with us. If we continue to take a positive approach to serving our clients and to adding value to their projects, we'll continue to be a success.
Entrepreneurial Approach – When working with a client, we're not just there to solve a problem, but we step back and look at every project to see if there are ways through value added engineering that we can help make them money or save them money over the life of the project.
Expertise – We've worked extremely hard to become the technical experts or the problem solvers in specific sectors of the engineering industry. This has allowed us to take a prominent lead in targeting new clients and building new relationships. Our expertise in the water resources and oil and gas arenas have allowed us to be very competitive.
How do you differentiate your company from other competitors in the marketplace?
We take pride in the fact that we provide a better level of service than our competitors and we bring a "value added" approach to our clients that our competitors can't and don't. Our phones are on 24 hours a day, 365 days a year to be there for our clients and assist them in developing solutions for their projects. We strive to add value to even the smallest of projects while maintaining the schedule and budget. Our value-added approach has helped us develop long term relationships, furthering our business opportunities.
What's your best marketing tip for other small business owners?
Develop a strategy and believe in your business and your message. If it doesn't work, assess the weak points and the failures and adjust course. If you don't know how to develop that strategy or why what you're doing isn't working, ask for help. It's easy to think you'll figure it out, but there are professionals like Ultra Graphics that can minimize those head scratching moments and let you do what you're good at (working your business), while they do what they're good at, which is helping you sell your business.

406.461.8392 | scott@performance-ec.com