Whether you're building a new website from scratch, optimizing an existing website for SEO, or starting a new advertising campaign on Google Ads, the following tools and techniques will help you gather, organize, and curate the most relevant keywords for your online marketing goals.
How to use the Keyword Planner:
When you're writing content for your website, it's best to make a plan for how that content will engage, entertain, inform, educate, and otherwise enlighten your visitors. Based on the "E.A.T." principal from Google's Search Quality Guidelines, you want to position your business as a trustworthy expert and authority on your products and services. When planning that content, you should have a solid idea of the things that people are searching for related to your offerings (not what you WANT them to be searching for). The Google Keyword Planner is the perfect tool to help not only generate ideas for keywords, but to see what actual people are searching for. For example, if you run a bicycle repair shop:
If you haven't already, create a Google Ads account.
Login to your account, click on the "tools and settings" tab, then click on the "Keyword Planner" link in the dropdown that appears.

Click the "discover new keywords" box.
Type in your "seed" keyword, in this example we'll put "bicycle repair". You can add multiple keywords if you like.

You can refine the results further by geographic location (like if you wanted to target just your zip code, city, state, etc…), language, search network (Google vs Google PLUS search partners), and date range (defaults to last 12 months). These options are at the very top of the keyword planner page. 
Click "get results".
The next page will blow your mind. SO much great information: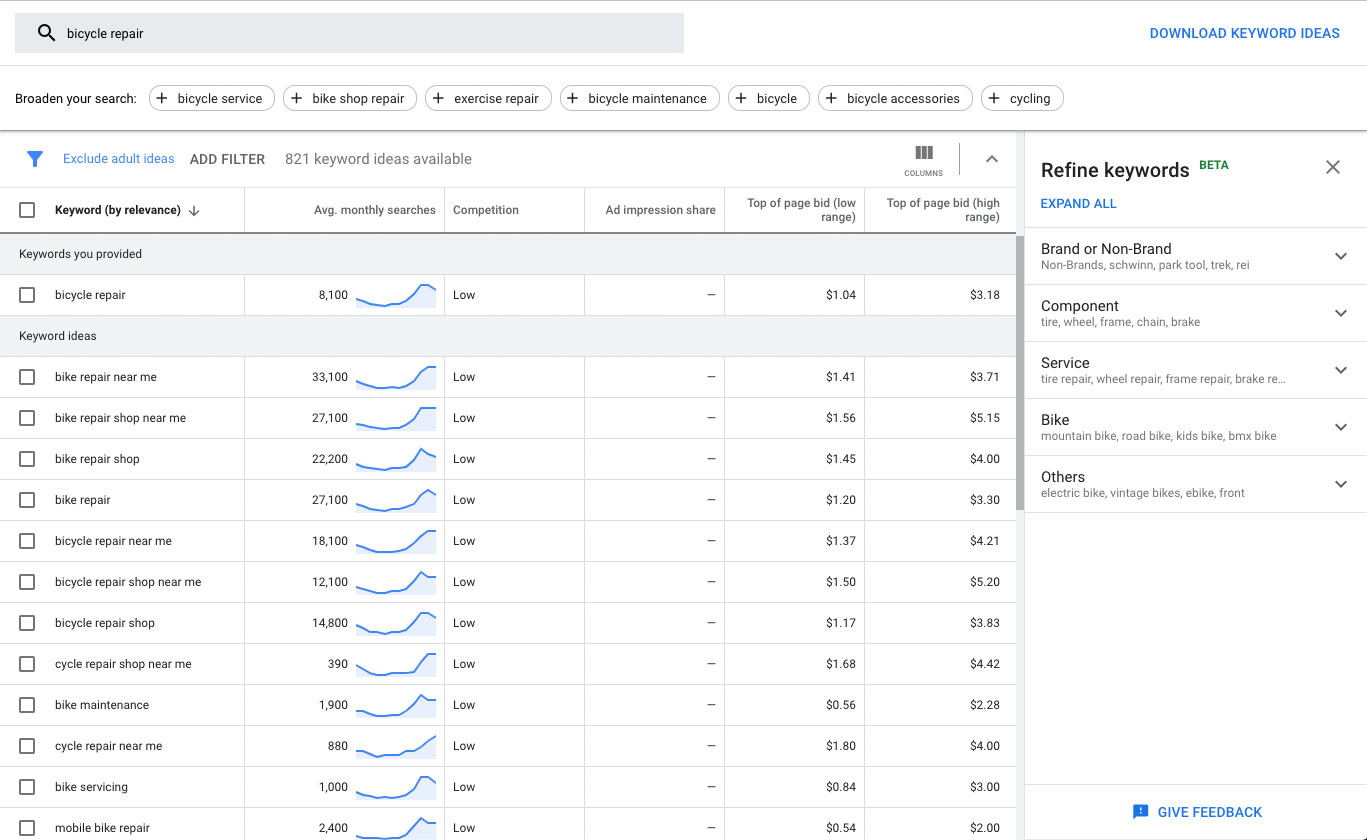 In the result screen, you can easily see:
Keyword searches that are based on actual search data.
Average monthly searches and seasonal data (to get a good idea of which to target, when is the best TIME to target).
The average bid for a particular keyword to get to the top of the ad results.
Refine Keywords (beta)
As of the time of this writing, the Refine Keywords is still in beta, but we can see it being HUGE for refining and curating keywords. You can expand the sections and unclick the boxes next to any keyword or keyword groups that don't apply to your business or advertising strategy (such as brands you don't repair, services you don't offer, etc…).
You can add more seed keywords to the results, refine them using the Refine Keywords sidebar, and keep tweaking until you have an excellent reference for content creation, SEO, and SEM. If you want to jump into an advertising campaign, you can click the keywords and add them to an existing campaign, and create new ad groups. We highly recommend downloading the keyword list(s) and then adding them as ad groups using the broad match modifier for more targeted results.
Using your website as a starting point in the Keyword Planner
Another great use for the keyword planner is if you have an existing website and are wanting to get ideas for keywords based on the content you already have, for advertising or refining your content to be more relevant to searches. To do that, follow the same steps as before except in the keyword discovery window, choose the "start with a website" tab, and enter your (or your competitor's, wink wink) site. You can choose to analyze the whole site or just a particular page – which is great when you're creating targeted ad groups.
The results will have real-world searches for related topics to the content on the page. Keep in mind, this is only really useful if you have a robust bit of content already that is relevant to your products and services.