If you're reading this, you're probably already considering promoting your products and services at a trade show. Whether you need help designing your exhibit, ordering promotional items, printing display banners, or all of the above – Ultra Graphics can help.
Benefits of Attending a Trade Show
Making the investment to attend a trade show not only opens the door to endless networking opportunities, but it's an excellent way to get your products and services in front of multiple potential buyers. Whether the show is private or open to the public, exhibiting at a trade show helps your business grow and generate leads. Here are some important benefits to attending a trade show or expo:
Networking
Networking is key to discovering who your perfect customers are and making sure it's your brand that comes to mind when they're in need of your services. Trade shows give you the opportunity to meet with existing and potential customers face-to-face, creating more personal interactions and conversations. This is also the perfect time to introduce other members of your team to new or existing business contacts. Growing your network means making new connections, strengthening existing business relationships and generating sales leads.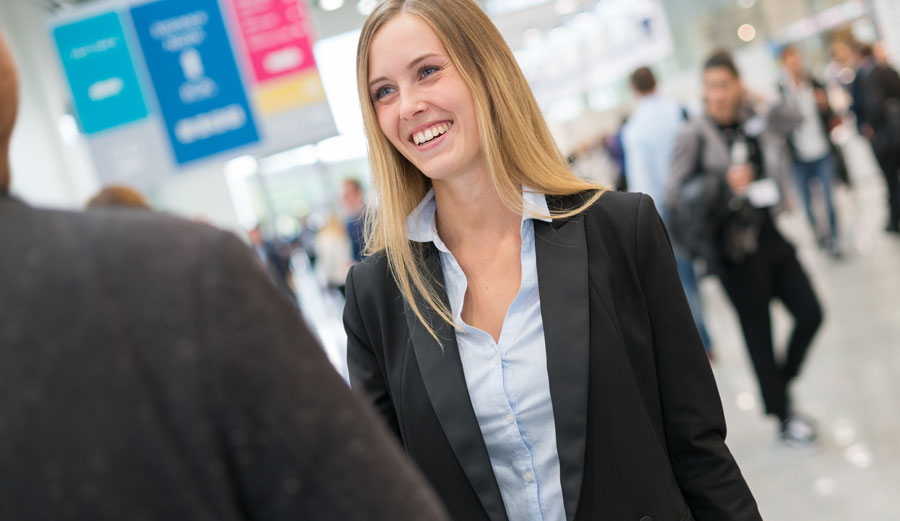 Brand Exposure
Branding goes way beyond a logo, tagline or jingle, it's the message the consumer receives – the entire customer perception. By exhibiting at trade shows your brand will be in front of potentially thousands of people at one time. Since shows are most often targeted towards a particular industry, it's a great way to advertise to your target market and create brand awareness. With eye-catching displays and signage, along with branded giveaway items such pens, note pads or mugs, your brand will be front of mind even after the show is over.
Showcase Your Products & Services
You've worked hard for what you have. There's no better way to strengthen your business's presence in your industry then by showcasing what you're proud of. Share testimonials from current customers to prove how you've helped them identify and solve a problem.
Generate Leads
Trade shows provide countless ways to gather data from potential customers for direct mail opportunities, email marketing campaigns, or company newsletters. It's important to follow up with these new contacts you've made. In order to stay top of mind, you should send them information about your products and services frequently. We recommend having a Customer Relationship Management (CRM) system. This will help you keep track of prospects and valuable information about them so you can easily track your marketing efforts and know where each lead stands.
Gain Valuable Feedback
Trade shows are a great way to discuss or demonstrate your products and services in order to gain valuable feedback. Depending on what type of product you're marketing, demos or surveys can be carried out to get reactions from others in your industry or from the general public.
Planning is Key
It may seem like 12+ months is plenty of time to get everything in line for a successful trade show display, but it will go fast! You'll want to set your budget, develop a detailed plan, and then stick with it. It will be helpful to set reminders so you and your team stay on track and nothing falls off the radar. The following timeline is what we recommend for getting organized and ready for your show.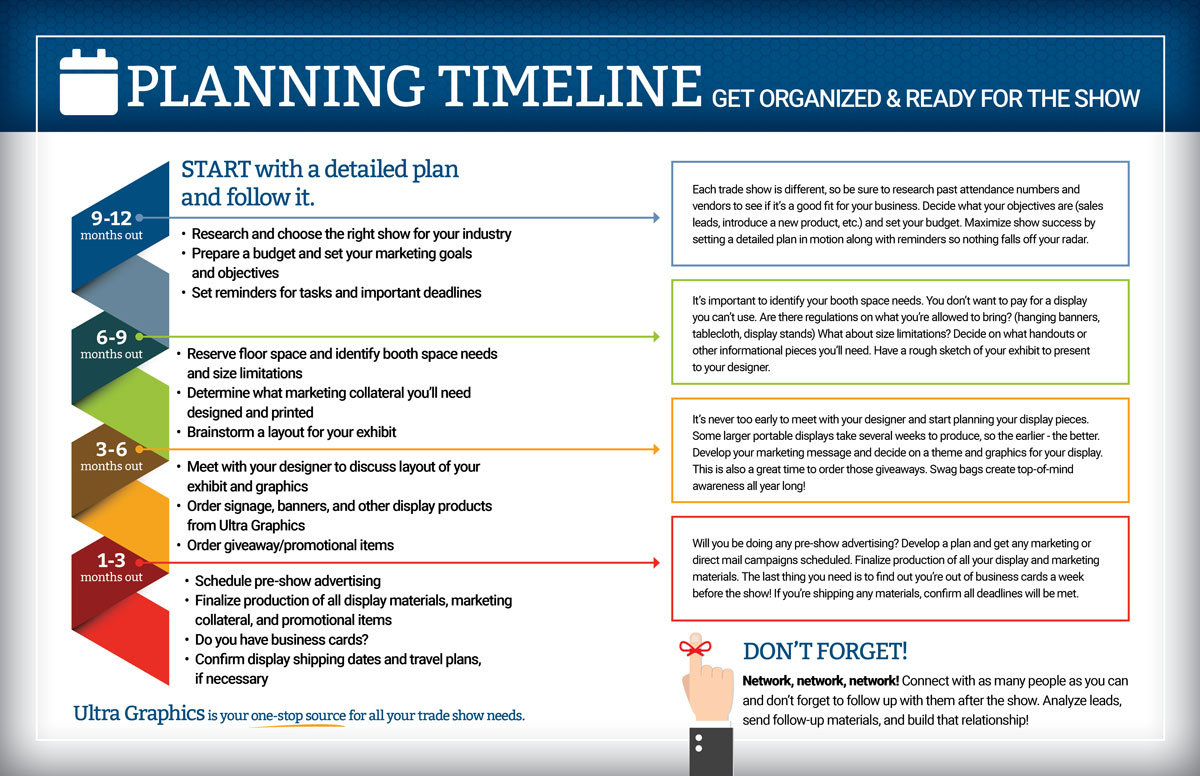 Checklist for a Successful Exhibit
From booth space, deadlines, and budgets to advertising, designing, and planning there is so much to remember to maximize your show success. If you can check most of these items off your list, you're on the right track to an unbeatable exhibit. And best of all, Ultra Graphics can hook you up with all of it!
Retractable Banner Stand
Business Cards
Tablecloth
Banner
Giveaway/Promotional Items
Rack Cards
Brochures
Floor Graphics
Stickers
Name Badges
TIP! Everyone loves winning. Prize drawings will attract people to your booth. Have attendees enter by leaving their business card or filling out a contact form. This is a great way to gather contacts and build your CRM database.