Mugs, tumblers, pens, keychains, hats, glasses, thermoses, golf balls, lanyards, tape measures, wristbands, USB flash drives, and thousands upon thousands more.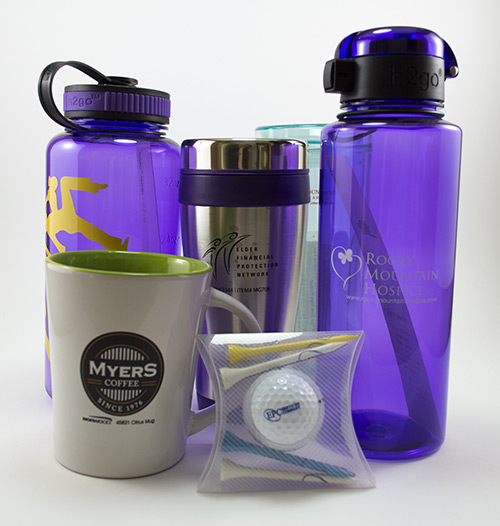 Shopping for the right promotional product for your customer can be equal parts entertaining, and daunting. Searching for something as simple as a pen to give away to potential clients can be a challenge. Luckily, the Ultra Graphics promotional product shopping site allows you to search, filter, and find the perfect branded product. Search and filter literally thousands and thousands of products ranging from pens and mugs, to golf balls and hand sanitizer. You really can get lost in all the great opportunities for memorable and fun gifts for your colleagues, customers, and – let's face it – yourselves.
Shop Promotional Products
If you're having any issues, or getting promotional shopping fatigue, the account executives at Ultra Graphics in Billings have promotional product laser vision, and can help you find the perfect selection to compliment your business and your customers. In addition, our partnerships with some of the biggest promotional product vendors in the country allow us to have the fullest high-quality selection of hundreds of thousands of products, ensuring that we can get just about anything with your logo on it.
From high-end, luxury products that you give your most important clients – to affordable quality products perfect for trade shows and giveaways, Ultra Graphics has the resources and expertise to get you what you need.
Five promotional product tips from our experts:
If possible, stick to 1 or two colors.  Most promotional products offer tiered pricing based on the number of ink colors that go into the imprint.  If your logo has a one or two color version, you'll not only save money per piece, but will avoid additional setup charges.
Go big or go home. Many products are priced based on higher minimum quantities. If you know you'll use them up over time, spring for the 1,000 instead of 250.  You'll pay less per piece that way.
Don't skimp on quality.  We've seen it too many times – trying to save money by buying cheap plastic or low-quality craftsmanship will work in the short term, but can leave a poor taste in your client's mouth then their new branded gift breaks after three days and ends up in the trash.
Get the product that represents you or your customer, and make it useful.  That's why pens are so popular, EVERYONE uses pens in business. Get something that will not only put your business name front and center, but something that they will actually use regularly.  Thermoses, mugs, pens, and sticky note pads are great examples here.
Get a sample.  Most of the promotional products offer a sample before purchasing.  It's an excellent way to assess the quality and usability of the product yourself before passing it (and your reputation) along to a client.
Feel free to visit our promotional products shopping site to see if the right promotional product is available for your and your customers. Hint – there's about a 99.999% chance it is. When you find the perfect one, let us know and we'll get you an accurate quote!
Don't see what you're looking for? Chances are we can do it! Give us a call 406-256-4999
Click Here to Get a Quote For Promotional Products!