Let Ultra Graphics take care of one of the most paper-cut inducing jobs there is – envelope stuffing.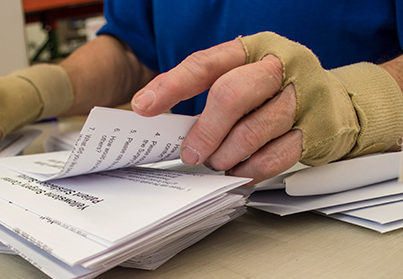 Envelope stuffing is one of those tasks that no one is very excited to start, although there is something to be said for the relaxing zen-like state that can come as a result of chipping away at a pile of 3,000 folded letters that need to be in envelopes. Ultra Graphics has the machinery and the personnel to take on any envelope stuffing burden from you, and to make sure your mail piece arrives exactly the way it should.
Whether it's a trifold letter that's inserted into a #10 regular envelope, or a four piece marketing package that inserts into a 9×12 window envelope with variable addressing and a specific order and mail match, we can handle it. It's another service in a long line of services that ensure that you only have to go to one place to get your print materials exactly where they need to go, start to finish.
Don't see what you're looking for? Chances are we can do it! Give us a call 406-256-4999
Click Here to Get a Quote For Envelope Stuffing!